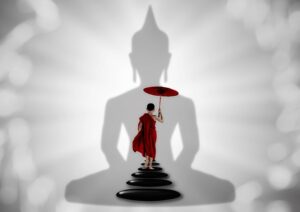 Sections:
POP CULTURE PUSHING YOGA
LETTING GO OF SELF CONTROL
OBSESSIVE-SELF-CARE / IDLNESS
YOGA SEEKS CONVERTS
KRISHNA TEMPLE PROMOTES YOGA
MIRACULOUS YOGA-RELATED HEALINGS
YOGA PROMOTES THE FALSE DOCTRINE OF MULTIPLE PATHS TO SALVATION
YOGA PROMOTES IMMODESTY
YOGA MAY INVOLVE SPIRITUAL MEDIUMS IN ITS POSES ETC
RESOURCES FOR ADDITIONAL STUDY
POP CULTURE PUSHING YOGA:
Why is Yoga pushed by celebrities & pop culture? It is a quite possibly a portal to manipulation by Satanic forces. Doing the opposite of what Hollywood Stars promote is a good rule of thumb.
Beware that Satan makes himself appear as an angel of light. He is a brilliant salesman! His counterfeits to truth are often accepted even by the very elect.
I'm not saying people who do yoga are going to hell. I'm saying eventually they'll learn better ways (if the hypothesis that yoga is corrupt is a true hypothesis). It's like when someone asked me if a saint who drinks coffee is going to hell- the answer is no, but it's a dangerous path connected to rebellion (since we know it is forbidden), and rebellion can indeed disqualify someone from the higher blessings.
LETTING GO OF SELF CONTROL:
One of the biggest problems with yoga is that it encourages an Eastern form of meditation involving clearing the mind, letting go of ideas, giving control over to 'the universe' or 'nature', rather than retaining self-control.
You should never give away control of your body to anything or anyone. Even a latter-day prophet, Lee Grant or Taylor I think, said he would willingly serve God, but never be God's slave. Brigham Young taught of the need to stand on your own and not blindly follow others.
In hypnotics the student gives his will away to someone else. This is not true for all mindfulness practitioners, some just relax and try to focus on breathing, but many take it to a whole other level, seeking spiritual manipulation. The parallels are worth considering.
Yoga may be a gateway drug to these higher forms of manipulation. Christian scripture passages suggesting meditation involve pondering ideas, not dismissing all ideas.
OBSESSIVE-SELF-CARE / IDLNESS:
Perhaps the Devil rejoices when he sees people investing so much time into something that matters so little. There seems to be a growing culture of obsessive-self-care, taking this far further than it needs to be.
Remember, deception doesn't need to be evil to be effective. Further, this deception may not be as innocent as many were led to believe.
The yoga teacher sits as a god enthroned to her class showing off her body, her perfections and masteries. She often not only boasts skill in yoga, but wisdom in all philosophy. Perhaps she is ignorant to the potentially negative effects of her teachings.
YOGA SEEKS CONVERTS:
Before we discovered these truths about yoga, my wife was enrolled in yoga certification classes. She saw that they teach to seek after those who are at a low point in their lives to target them, as it is they who remain yoga students for life. This to us suggests that yoga is a religion seeking converts.
Upon learning about the questionable nature of yoga, my wife dropped the classes. She has found healthier alternatives in Pilates, simple stretching, walking, etc.
I believe Yoga becomes more than a healthy hobby, it becomes an all-encompassing way of life, often even replacing former religious convictions.
A Pew research study shows most stay in yoga for spiritual reasons despite starting for physical reasons (https://truthaboutyoga.com/spiritual-effects-of-practicing-yoga/).
What persuades to believe in Christ is good / good spirits, what persuades "believe not" in Christ (that's how the Book of Mormon words it, which is instructive; they don't have to pull you over to some other god to be evil, they just have to pull you away from Christ to be evil) is evil. And like I've pointed out, yoga often leads away from western Judeo-Christian culture & belief, and toward either agnosticism, atheism, or eastern religion.
KRISHNA TEMPLE PROMOTES YOGA:
When we visit the Krishna temple, we see their signs calling for diligent yoga. We saw many questionable things in the trainings, including instructions to call upon spirits to be of assistance.
The fact that they promote it isn't in and of itself grounds to banish yoga, but it does further establish the link between yoga and Hinduism.
MIRACULOUS YOGA-RELATED HEALINGS:
Some say yoga really works, so why not use it? Remember the Devil can perform little miracles to get people's souls.
When one does something bad in exchange for a blessing, it is called selling the soul to the devil.
Just because something works isn't ample reason to do it.
YOGA PROMOTES THE FALSE DOCTRINE OF MULTIPLE PATHS TO SALVATION:
Die hard new age / yoga students are often committed to the idea that there are little bits of good everywhere, and that there isn't one way to salvation/lasting peace, but many. This sort of pantheism strongly echoes the paganism of old condemned by the prophets in the bible.
It is very different from Jesus Christ's declaration that he is the way, the truth, and the light, and that no man cometh to the father but by him. Christ declared that those who will not partake of his word will not enter the kingdom of God.
This goes back to the old 'several camps in heaven' idea (one campe for Adventists, another for Baptists, Methodists, Islam, Hindu, etc.) which is a false notion, inspired by the Devil. Baptism and faithful adherence to the councils of God are the requirements to enter the presence of God the Father of all.
YOGA PROMOTES IMMODESTY:
The pants they promote certainly cause one to question! It's like Thomas Moore's book Utopia about cannibals, at the end he says, 'but you know the strangest thing about them, no one wore any pants!' Moore was correct – people who call themselves civilized but do bizarre things like not clothing their bodies appropriately are anything but civilized.
Thought the yoga pants facilitate free movement, other uniforms could do this while accommodating modesty.
I suspect hidden agendas in the promotion of yoga pants. Many wear them everywhere. They are becoming a part of day to day culture rather than a fitness uniform.
The human body was never meant to be fully on display in day to day activities. It is sacred and deserves reverence.
YOGA MAY INVOLVE SPIRITUAL MEDIUMS IN ITS POSES ETC:
The poses themselves are supposedly each a worship to a different Hindu god or goddess.
The bible condemns the practice of communicating with the dead through mediums. Not all who practice yoga do this, but high level ones may.
Ancient Israel was absolutely forbidden from practicing anything that had to do with other gods.
Some are unaware of yoga being worship of Hindu gods. However, like how smoking hurts people even if they aren't aware that it is hurting them, we can't claim ignorance is bliss.
Even if gods of myth have basis in the True God, that doesn't mean they should be worshipped.
Just because something appears spiritually uplifting doesn't mean it is from a good spiritual source.
Few yoga practitioners are aware of the potentially dark side of their practice. Similar to Free Masons, most of them are good people, just unaware of evidence of satanic usurpation of their trade.
This article further demonstrates how each pose represents a prayer to a specific god: https://www.ekhartyoga.com/…/practice/6-sacred-yoga-poses
Certainly the Reiki Masters are taught to call on certain Hindu spirits for aid (What is Reiki? – Truth Behind Yoga).
MYSTICS VS PROPHETS
God's ways are not the ways of the mystic. Read Nibley's stuff on prophets vs mystics. The devil tries to get us sold into a gospel of mysteriousness, incomprehensibility, vagueness, and shifting morals.
Even psychotropic medications are ways the Devil takes over someone, see drugawareness.org.
The views of Yoga compared to biblical views are detailed nicely in this article: What Does the Bible Say? The Teachings of Yoga and the Bible are Antithetical. – Truth Behind Yoga
RESOURCES FOR ADDITIONAL STUDY:
-A short video on "Why Christians Should Avoid Yoga" by Doreen Virtue, a former New Age Master: https://youtu.be/3PkGIQNkJC8
-1.5 hour video featuring the story of the author of TruthBehindYoga.com https://m.youtube.com/watch?v=AkiNFjzJ6y4&feature=youtu.be
-See LDS Energy healing/emotion code exposed Facebook page/group.
–Is yoga Spiritual? | Truth About Yoga