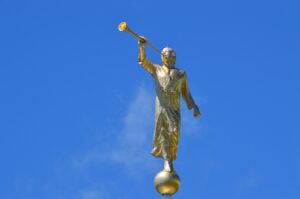 Religion Writings & Compilations by Nate Richardson:
Navigating Revelation – Determining Doctrine, Prophets, Scripture Cannon, Restoration (PDF)
Champions for Zion: Early Church Leaders on Building Zion by Jesse Fisher Highlights, Independent Cities, Consecration (PDF)
Heartland Book of Mormon Geography (PDF)
Seer Stone vs. Urim & Thummim: Book of Mormon Translation on Trial by Stoddards/JSF, Book Highlights (Blog)
Cleon Skousen Book of Mormon Class Highlights (PDF)
Plural Marriage: A Positive View (PDF) (About: Does NOT encourage current practice of this principle. Defends the doctrine and its selective use in the bible and latter-day saint church history. Ft. Kim Smith, Ogden Kraut, etc.)
Adam & God as Separate Beings (PDF)
Race: Religious Blessings & Cultural Counsel (PDF)
Hyrum Andrus Highlights (PDF) 
Plan of Salvation Insights (PDF) 
Valient Faith (PDF) 
Peter Kreeft's "Culture War" etc. (PDF) 
Hope of Exaltation (PDF) 
Hugh Nibley Highlights (PDF) 
Exemplary Faith: Lives of Modern Prophets & Saints (PDF)
Religion Audio & Video Resources by Nate Richardson: 
RESTORATION AUDIO/VIDEO
2min Hurlbut – The Corrupt Source of the Joseph Smith Treasure Digger Narrative
27min Personal Glimpses of the Prophet Joseph Smith by Hyrum Andrus Highlights
11min Plural Marriage in the Torah
34min Hidden Bloodlines: The Grail & The Lost Tribes of the North by the Joseph Smith Foundation – Documentary Notes
9min Nephites in Europe by The Joseph Smith Foundation – Documentary Notes
28min Joseph Smith More Than We Know by The Joseph Smith Foundation – Documentary Notes
26min Unlocking the Mystery of the Two Prophets by The Joseph Smith Foundation – Documentary Notes
2hr The Church of The Firstborn – Latter-day Saint Quotes
34min Heavenly Father Has a Father – Latter-day Saint Quotes
PLAN OF SALVATION AUDIO/VIDEO
16min The Creations Of God, Worlds Without Number – Hyrum Andrus Lecture Highlights
19min Kingdoms of Colleges an Allegory of the 3 Kingdoms of God video
12min Why We Need A Savior: God's Plan of Justice VS Lucifer's Tyranny – Excerpt from Elder D Todd Christofferson
18min Exaltation Theory
13min Exaltation – Latter-day Saint Quotes
25min Exaltation Logic Analysis
FAITH AUDIO/VIDEO
27min Situational Ethics, Oh No You Don't!
1.5hr A Christ Centered Home (The Life Teachings & Family of James Stoddard) Book Highlights
13min Point Blank Accountability
44min Man is Become as God: Spiritual Capitalism and Why Life is Hard
20min Questions for the 1 Verse a Day Enthusiast
30min The God of Individualized Contracts
28min Life is a Pickle: Eden & Beyond
27min I Believe part 1
39min I believe part 2
5min I believe part 3
12min Missions: Commanded to Go: Latter-day Saint Quotes
19min Faith Hope & Charity unto Salvation
Religion Posts:
2023 Religion Posts
*Highlights from Seer Stone v. Urim & Thummim: The Book of Mormon Translation on Trial by Hannah & James Stoddard 08/01/2023
*Highlights from "Faith Crisis Vol. 1: We Were Not Betrayed," Answering "Did the LDS Church Lie?" by Hannah & James Stoddard – Defending Progressive Historian Attacks on the Character & Teachings of Joesph Smith 07/24/2023
Alma Allred & Bruce R McConkie: Elohim & Jehovah Aren't Such Rigid Titles 06/19/2023
Is the Jesus of Mormonism the Jesus of the Bible? Alma Allred Debate Notes 06/19/2023
What is Truth? Alma Allred Debate Notes 06/19/2023
16 Reasons Why Adam & God are Separate 06/19/2023
*Highlights from J. Max Anderson's book "The Polygamy Story: Fact & Fiction" – Refuting Fundamentalist Authority Claims 06/19/2023
Overview of the Role of Adam as Father & Head of Patriarchal Holy Order of THIS World, but NOT over Christ   06/01/2023
Can Men Become Gods? James White (Baptist) vs Martin Tanner (LDS) – Debate Notes 05/29/2023
The Scale of Each Eternity as Salvation of a Galaxy, the Future Inheritance of the Faithful as Presiding God's with the Same Keys, Calling a Godhead for Each Eternity, One Eternal Round 05/29/2023
Thoughts on Why the New Youth Pamphlet and Related Changes in the Church – Changes Toward the "Higher & Holier Way" without Falling into "Anything Goes" Pitfalls, Emphasizing Parental Leadership – 4.23.23 04/24/2023
2022 Religion Posts
Pre-Existence by Ogden Kraut – Book Highlights 11/10/2022
The Gift of Dreams by Ogden Kraut – Book Highlights 11/08/2022
Plural Marriage in the Bible by Ogden Kraut – Book Highlights 09/12/2022
Celestial (Plural) Marriage by Orson Pratt – Highlights 09/12/2022
Abraham's Plural Marriages: Resolving Concerns 08/25/2022
Problems with Michelle Stone's "132 Problems" Lecture Series Against Plural Marriage 08/25/2022
The Angel with the Drawn Sword: Legitimate & Theologically Congruent 08/25/2022
David's Plural Marriage: Comparing Jacob 2 and D&C 132 08/25/2022
Biblical Concubines as a Command of God 08/25/2022
Q&A with Jesse Fisher, Author of "Champions for Zion" on Teachings of Early LDS Leaders on Building Zion Economically & Otherwise 06/20/2022
Don't Be Your Best Self, Live Through Christ: Thoughts, Scriptures, Linguistics, Etc. 06/20/2022
2021 Religion Posts
Plural Marriage in the Torah 12/28/2021
Sustaining Church Leaders & Following Conscience 12/14/2021
Overview of Plural Marriage as an Eternal Celestial Blessing 12/03/2021
Kimberly Smith Plural Marriage & The Patriarchal Order as Honoring and Exalting Women 12/03/2021
Hyrum Andrus: The Creations of God, Worlds Without Number – Lecture Highlights 11/29/2021
Cleon Skousen Highlights the Life of J Reuben Clark 11/03/2021
Cleon Skousen – Meaning of the Atonement Lecture – Highlights 10/30/2021
Cleon Skousen – Ancient Scripture Lecture – Highlights 10/30/2021
David Hocking Annotated Series Highlights – Book of Mormon, Jasher, Isaiah 10/25/2021
Selected Images from David Hocking's Annotated Book of Mormon: Overwhelming Evidence for the North American Setting 10/19/2021
Hurlbut: The Corrupt Source of the Sources on "Magical Treasure Stone" Joseph Smith 10/01/2021
Adoption, Sealings, Blood Lines, Fathers, Mothers, Levirate Law, Plural Marriage: An Overview 09/27/2021
On the Doctrinal Validity of Joseph Smith Papers, Journal of Discourses, "Saints" Histories, Etc. 09/16/2021
Hugh Nibley: Pros & Cons (Mostly Pros) 09/16/2021
Dividing Light from Darkness: People Theory 09/06/2021
Adam Was 1st Flesh on Earth (Before Animals): Scriptural Analysis 09/06/2021
JST Insights on Garden of God vs Garden of Eden, & What Took Place in Each: Answers Adam God Questions 08/30/2021
Suggestions for Bishops 08/09/2021
No, The Holy Ghost Didn't Used to Have A Body 08/09/2021
Evidence that Plural Marriage was Practiced in the Book of Mormon 08/04/2021
2020 Religion Posts
On Situational Ethics: Oh No You Don't! 12/18/2020
General Conference Highlights: October 2020 10/04/2020
Time Changer – Movie Review 05/11/2020
Beware Persecution From Inside the Church – Prophetic Warnings 03/30/2020
Versions of the Talmud 03/30/2020
Know, Not Just Believe 03/30/2020
Nephites in Europe: Quest for the Nephite Remnant by the Joseph Smith Foundation – Documentary Notes 03/23/2020
Hidden Bloodlines: The Grail & The Lost Tribes of the North by the Joseph Smith Foundation – Documentary Notes 03/23/2020
Where is Joseph Smith in the Bible? Come and See 03/16/2020
A Few Notes on Joseph Smith 03/16/2020
Whisperings: The Still Small Voice of Conscience: Essay by Joel Skousen 03/15/2020
Carrying the Gospel to the "Heathen" Nations 02/17/2020
2019 Religion Posts
What we won't give up, keeping us from Zion 12/26/2019
Testimony: Bearing the Weight, Why We Aren't Raptured Upon Conversion, & Some Q&A 12/26/2019
I Believe: Part 3 12/26/2019
I Believe: Part 2 12/26/2019
I Believe: Part 1 12/26/2019
President Hinckley Outlines our Top Priorities 12/26/2019
Trusting Personal Revelation (Over well-meaning words of Respected Others) 12/26/2019
Polygamy's Ancient Purpose & Legal History 12/24/2019
Without Vision, The People Perish: Reaching for Higher Fulfilment 11/30/2019
God's People are His Glory: A Key to Knowledge of Eternity 11/24/2019
Possible Hebrew Meaning of Genesis 3:1 11/24/2019
Effective Co-Creators: Everyday Saviors on Mount Zion 11/24/2019
Emulating the Godhead in the Pre-Mortal, Mortal, & Post-Mortal Existence 11/24/2019
Agency Begins with Saying No 11/23/2019
What are The Millennium & Heaven Like? Eternal Sunday? Boring? 11/16/2019
Straining at Particles of Light: Premortal Life and the Mansions of Memory by Terryl Givens – Lecture Notes 11/16/2019
Priesthood 03/02/2019
Obedience to God Can Bring Seemingly Unrelated Blessings 03/02/2019
Joining The Church: Salvation, Alcohol, & Sexual Chastity 02/15/2019
2018 Religion Posts
How Beautiful are the Feet 12/20/2018
The God of Individualized Contracts 11/21/2018
Life is a Pickle 11/21/2018
Adoption To The Household of the Gods 11/10/2018
To Obey is Better than Sacrifice: The Secret Code for Valiant Service, & A List of Some Commandments & Councils 11/09/2018
Man is Become As God: Spiritual Capitalism & Why Life is Hard 11/03/2018
Creation Fall & Atonement Narrative 11/03/2018
Forgiveness & Tolerance 10/20/2018
Prayers, Answers, & Leading the Children in Prayer 10/20/2018
The Crucible of Doubt by Terryl & Fiona Givens – Book Notes 09/20/2018
A Great Terror: Decreasing Sabbath Observance & Scriptural Awareness 09/12/2018
Power of the Restoration: A Firm Foundation of Faith 09/12/2018
On Conspiracy & Staying in The Church: Responding to Christian Markham's Two Churches Only Vol. 2 09/10/2018
Belief and Knowledge unto Obedience 08/02/2018
Magnifying Your Calling in the Church & Your Calling in the Gospel 07/25/2018
Heavenly Father has a Father, as Taught by the Prophets 07/17/2018
Biblical Context of Latter-day Saint Doctrine, a House Divided Principle, & The Achilles Heel of Preferring Past Prophets to Modern Prophets 07/13/2018
Multiculturalism and leaving Babylon culture for higher like fat man leaves and looses taste for junk food 07/07/2018
Christ Symbols in Animal Sacrifice of the Law of Moses 07/07/2018
The Prophet Joseph Smith: More Than We Know by the Joseph Smith Foundation – Documentary Notes 06/30/2018
The Gospel of Creation Theory 06/22/2018
Why Bad things Happen to Good People? God Isn't a Nanny Parent 06/16/2018
Why Satan does what he does based on Intelligence and Physics, excerpt from Hiding in Plain Sight by Ken Bowers 06/16/2018
Be One: Celebrating Priesthood for Africans – Lecture Notes 06/02/2018
God's People are His Glory 05/21/2018
The Essential Foot Soldier 04/20/2018
Exponential Exaltation via Childbearing 02/18/2018
Taking Care of Others Before Yourself: Excerpts from "Fear Not to Do Good" By Henry B. Eyring 03/14/2018
Magnifying Our Callings Unto Salvation 03/14/2018
Why our Society is going to Hell 02/28/2018
The Need to Defend Truth by Elder Christofferson to Religious Educators – Lecture Notes 02/23/2018
Ministering: Friendly Missionary Work – A Joy, A Cross, A Time Travel Analogy, & Going Beyond Servitude 02/23/2018
A House Full Of Females: Plural Marriage And Women's Rights In Early Mormonism by Laurel Ulrich, Notes 02/21/2018
Point-Blank Accountability 02/21/2018
Wickedness is Happiness, Sometimes? The Justice of God and the Nature of the Soul 02/05/2018
Should we Limit our Studies to General Authorities & Conferences? 02/05/2018
Consequences of Rejecting the Prophets, Including Less Access to the Word of God 02/05/2018
Why am I a Latter-day Saint? Personal Revelation. 02/05/2018
What Constitutes Doctrine – An Explanation from the Prophets 02/05/2018
Commandments and Councils List 02/05/2018
Tithing as taught by the Prophets 02/05/2018
Power of the Restoration: A Firm Foundation of Faith: Finally! A Good Taste in our Mouths for Religion! Welcome to the Restored Gospel of Jesus Christ 02/01/2018
The Solution to Pharaoh's Dilemma: Overcoming Death 02/01/2018
The Only True Church 02/01/2018
Oneness of God, Fall of Adam, & Atonement of Christ 02/01/2018
*The Mortal Messiah (all 4 volumes) by Bruce R. McConkie – Book Notes 02/01/2018
The Church of the Firstborn as Taught by the Prophets 02/01/2018
Special Witnesses of Christ: Prophets Know Him 02/01/2018
Scriptural Serpent Symbol : Christs Truth & Satans Imitation 01/27/2018
Scriptural List of the Abominations of Babylon 01/27/2018
Emphasize service, brotherhood, & grass-roots-education; de-emphasize careerism, status seeking, & hoop-jumping 01/27/2018
Sabbath is Not for Commerce or Sport: PMG Standard 01/27/2018
We face the frightening thought of a generation raised without any contact with scripture -Boyd Packer 01/27/2018
Why God Sometimes Instructs His People To Kill 01/27/2018
Pride and Humility: The Universal Problem and the Universal Solution 01/27/2018
Pre-Mortality – Words of the Prophets 01/26/2018
Personal Glimpses of the Prophet Joseph Smith, by H. & H. Andrus, summary & audio 01/25/2018
Prophets Teach Obedience 01/25/2018
Preguntas Y Respuesas Basicas En Cuanto De Como Vivo Me Fe 01/25/2018
Basic Q & A On Living One's Faith As A Latter-day Saint 01/25/2018
Living Beneath Our Privileges 01/24/2018
Literal Resurrection of Christ & All 01/24/2018
The Possibility of Pure Joy: Our Greatest Fear 01/24/2018
Joseph Smith brief note 01/24/2018
Isaiah Class by Byron Merrill by BYU – Notes 01/24/2018
Ancient Rod of Aaron Used in Our Day by Oliver Cowdry: An Instrument of Revelation Testifying of Christ 01/24/2018
Increased Accountability and Expectation of the Latter-day Saints: Extra-Biblical Scripture & Exaltation (Theosis) 01/24/2018
Pre-Mortality, Corporal Resurrection, & Eternal Family 01/24/2018
Joy Analysis by Hugh Nibley from Book of Mormon & Pearl of Great Price Lectures 01/23/2018
Approaching Zion: To Our Glory or To Our Condemnation by Hugh Nibley – Lecture Notes 01/22/2018
Hebrew eyes seeing the Parables of Jesus by Amy Jill Levine – Lecture Notes 01/22/2018
Grace 01/22/2018
Godhead Discussion 01/22/2018
Non-Predestination aspect of Gods Agentive Servants 01/22/2018
Free Forever to Act for Themselves by Elder D. Todd Christofferson – Excerpt 01/22/2018
Faithlessness: Our #1 Problem, & How Faith Hope and Charity Lead to Salvation 01/22/2018
Self-Mastery by Elder Russel M Nelson – Lecture Notes 01/20/2018
Exaltation Theory 01/19/2018
Exaltation Analysis 01/19/2018
Exaltation as Taught by the Prophets 01/19/2018
Taste The Fruits of the Spirit 01/19/2018
Courageous Faith 01/18/2018
First Presidency Christmas Devotional 2014 – Lecture Notes 01/17/2018
Building the Great Great Cathedrals, summary 01/17/2018
Build an Highway to Zion: The Redemptive Life of Moving Mountains 01/17/2018
The 7 Deadly Heresies by Elder Bruce R McConkie – Lecture Notes 01/17/2018
Brad Wilcox Lecture Notes 01/17/2018
Baptism 01/17/2018
The Atonement of Jesus Christ As Taught by the Prophets 01/17/2018
Angels to buoy up the Servants of the Lord 01/17/2018
400 Questions & Answers about the New Testament by Susan Easton Black – Book Notes 01/12/2018
The Atonement of Jesus Christ: Can We Really Understand? by Donald W Parry, link to video 01/08/2018
Why We Need a Savior: God's Plan vs. Lucifer's Tyranny by Elder D. Todd Christofferson ("A Message at Christmas" 2017 BYU Devotional) 01/08/2018
We live in a Post-Christian Society by Elder Quinton L Cook 01/08/2018
We All Bleed The Same: Healing America Version by Alex Boye, Music Video 01/03/2018
Planted: Belief and Belonging in an age of Doubt, by Patrick Mason – Book Notes 01/01/2018
Godhead, Kingdoms, and Family as Types of Progression 01/01/2018