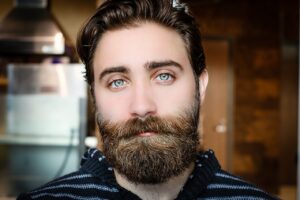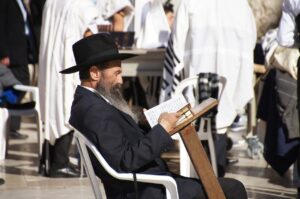 Though sometimes discouraged in and out of the church, the choice of whether a man should wear a beard is up to him. There is no commandment against it.
Beards anciently were a symbol of masculinity, independence, and allegiance to God. Perhaps the time for beards is returning in this the restoration of all things!
As Joel Skousen put it, "Beards are fine and natural but a lot depends on the shape and trim and how the reflects the real you." I agree: a beard can be a handsome style if we are sure we are not sloppy in our appearance.
There is much more to a person's demeanor than the beard which can be telling of his character. Does he slouch? Does he have a firm handshake? Does he look you in the eye when speaking? Does he show up on time to work, church, and other appointments? Does he work hard, and care for the needs of his family? A righteous man can use a beard to contribute to his handsome appearance and as a reminder of his devotion to God and liberty. But a slothful man can have a beard as a symbol of mere idleness. The character of a man will shine through, beard or no beard.
Though frequently a bearded man himself, Brigham Young told Ephraim Hanks to cut off his beard at a dance. When he returned without a beard, Brigham told him to cut his mustache. He did this too. Brigham said "here is a man I can trust with great responsibility, he did everything I asked." The point here wasn't so much to shave as it was to be obedient to counsel. There may be times and seasons where a beard is not the thing to do.
Many prophets of this dispensation wore beards. Should godly men wear neat beards to remove the stigma?
Pastor John Weaver gave an interesting sermon on the history of beards. Here are some highlights of his sermon:
He talks about beards being removed in times of apostacy.
90 percent of criminals are clean shaven.
Beardless and long hair on men is a repeated sign of paganism.
Liberal Germans promoting shaving.
Egyptians banning beards. Egyptians putting on false beards to show themselves as Gods. Egyptians depicting their enemies with beards. Egyptians depicting false gods without beards.
Many scriptures favor beards.
Beards keep growing back [this point isn't very valid as hair keeps growing back too but the New Testament still counsels men to have short hair compared to women].
Beards distinguish men from women.
Oaths were made by the beard.
To have it cut off involuntarily is an insult.
To kiss the beard is a sign of honor.
Ancient to say the value of something you compare it to your beard. The woman compares it to her husband's beard.
To be without beard is the sign of a slave.
Long hair of woman symbolizes her submission to her husband. Beard of man symbolizes his submission to God.
Hebrews had full beards. Goatees, or cutting the corners of the heard, was what worshipers of Baal did.
Egypt Greece & Rome pagans always tried to blur the sexes by cross dressing, etc.
There is a movement if beard wearing now, men are getting tired if being effeminate. Tired of being slaves.
[End of lecture highlights from Pastor John Weaver]