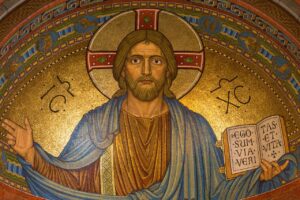 Some suggest that modesty is a fallen concept introduced by Satan &, that in heaven no one wears clothes, including God himself. This essay responds to that false doctrine.
Sections:
AMERICANS OBSESSED WITH NUDITY DUE TO PURITAN ROOTS?
DRESS AS A SYMBOL OF BOUNDARIES FOR YOUTH AND OLD
GOD & ANGELS SHOW UP CLOTHED
SATAN STEPPING IN AT EDEN
NUDITY OK FOR BABIES & THE TOTALLY IGNORANT
ARE MODESTY ADVOCATES PERVERTS?
MODERN REVELATION CLARIFIES & EMPHASIZES MODESTY
AMERICANS OBSESSED WITH NUDITY DUE TO PURITAN ROOTS?
Some suggest the Puritans were overly obsessed with modesty, and this lead to an underground obsession with nudity. This is absurd. They taught righteous principles of covering the body. How much fornication and adultery existed in their society? Relatively none. Compare that to our modern society who wears tight and revealing clothing: saturated with sexual sin and crime. We here use Jesus' formula for telling whether something is good or evil by looking at the fruits. The fruit of Puritan society was chastity, the fruit of modern society is unchastity.
At a nude beach there's a way to tell who are the Americans vs who are the Europeans: The Americans are the ones who stare (I'm sure this isn't always the case, but I'll respond to this anyway). Some say it's because Americans are obsessed with nudity due to their modest culture which deprives them. In reality, it's because the Europeans are desensitized to evil. It's just like how we stare when violence breaks out, when drugs are used, when children are rude to parents, etc. The body itself is not evil, but displayed publicly without covering IS evil, as it leads to a casual view regarding the body and its functions, leading to a sex-for-sport culture, rather than keeping physical intimacy reserved for marriage. It's like a gun. A gun is not inherently evil. In fact it can do great things such as ascertain food for hungry people, or defend life. However, when used in a bad way, the situation becomes evil. The Americans are not accustomed to public nudity, as they shouldn't be.
DRESS AS A SYMBOL OF BOUNDARIES FOR YOUTH AND OLD:
In an exalted / utopian station, there are always CHILDREN. Children cannot control themselves, so we teach them boundaries. Children are not married, not joined to another person in marriage, so we teach them to keep a healthy distance from intimate knowledge of the bodies of others by wearing clothing and teaching standards of chastity.
In an exalted / utopian station, if there was a group of only adults, would they remove clothing? No. Clothing is SYMBOLIC. Some symbols of clothing include vulnerability. Not just any two people should be completely vulnerable to each other. It is a symbol of contracted agreement to work with a partner. The only partner who is totally savvy to our business secrets, to our methods, who is on the same playing field, who can be trusted completely, is one's spouse. Then, when you are around other trustable people, the clothes still remain as a symbol of devotion to the spouse.
It is against human nature to expect a moral society where the literal and symbolic boundaries of clothing are not employed. Laws and boundaries are part of a moral society. The Founding Fathers of the US said even the best of people need to have morals in order to maintain a utopia, like what they set up in the US.
GOD & ANGELS SHOW UP CLOTHED:
Whenever God appears, he is dressed in a robe. The endowment shows God as clothed before Adam was clothed, so clothing originates with God. He also was dressed when He appeared with Jesus Christ to Joseph Smith in 1820. This indicates that his modus operandi is to be clothed! If God wanted to reveal the order of heaven to us, and that order was nudity, wouldn't he show up nude? Well it's not, and he doesn't. The idea is blasphemous.
Did Moroni show up unclothed? Moroni was wearing a robe, which is very different from nakedness. He likely had an undergarment which his robe covered. The robe was a V-neck type of gown. It would be an absurd manipulation of the Joseph Smith account to assume that Moroni was in any way immodestly dressed.
SATAN STEPPING IN AT EDEN:
Covering the body didn't originate with Satan; it is an eternal principle. Satan usurped it and tried to be the boss and 'enforce' the law of God, making himself a demi-God, doing things on his time and in his way rather than in Gods time and Gods way. Remember God further clothed Adam and Eve in coats of skins even after Satan told them to clothe in leaves. Those coats of skins helped them on several levels. One of those was the symbol that like how the blood of the animal was shed to cover them to physically protect them, so would the blood of Christ be shed to cover & protect them spiritually.
Leaving innocence is important as virtue is a combination of knowledge and experience all bridled appropriately. Satan tells half-truths. The truth was to wear clothes when innocence left, the lie was making them feel they needed to hide from God.
NUDITY OK FOR BABIES & THE TOTALLY IGNORANT:
God was fine with Adam & Eve being naked in the same sense that we are fine with a newborn baby being naked. The accounts are clear: they were in a state of innocence, knowing no good or evil. Their nakedness was symbolic of their immaturity and absolute dependance upon God to meet all of their needs. When Adam grew into maturity, that became no longer appropriate. Satan's involvement in this scenario was simply his attempt to change the pace of the process, and step in as a steward in place of the rightful leader, God.
Native American Indians who are known for historically wearing relatively nothing also do this in ignorance. Sometimes this is done out of rebellion rather than ignorance. The Book of Mormon rebukes them for going about in only a short girdle about their loins in rebellion. It was a symbol of their rebellion against civilization and God's laws governing relationships.
ARE MODESTY ADVOCATES PERVERTS?
Well did the scriptures prophecy that in the last days, men would call good evil and evil good! I reject it not because I'm a pervert, but because I respect God's laws.
Some say that those who advocate modesty are people who have an obsession with sex, a hypersensitivity due to an addiction. But I ask: Do you accuse God of these deviations and addictions? God is the Lord of all, and it is He that commands modesty. He knows full well the consequences of immodesty, and out of love for us gives us commandments which, if followed, can allow us to avoid the issues that stem from immodesty and unchastity which follows soon thereafter.
The Titus example of 'to who are pure all is pure' can't be taken out of context. Some use this scripture to say good people doing bad things become good things. Not so. We can't say rape robbery or incest are pure, etc. Think of renaissance nude art: the prophets wouldn't like being portrayed nude, they read Genesis, they know it isn't aligned with Gods standard. I reject nude art. The case of Isaiah being naked was an object lesson showing how people would be cursed for their wickedness: the state of nakedness represents slavery, vulnerability, depravity, poverty, destitution, and shame.
MODERN REVELATION CLARIFIES & EMPHASIZES MODESTY
We can't be like the protestants and demand a specific bible verse for everything. Clothing is one of the basic standards of social life. The no-clothing argument is akin to arguing we don't need protein, friends, married parents, scripture, or the Holy Ghost, etc., it's just so basic that it's hard to see how anyone could argue against it. But they certainly do.
What's the point of me listing sources when you reject any source that comes from the church which isn't in the bible. When I explain what the brethren have said concerning things many just say, "That's a great story." There's more to scripture than just the bible, and more to law than just the standard works. There's common law standards of public decency, etc. It boils down to whether the brethren speak with authority or not. If not, no amount of reasoning can correct them. If yes, then no amount of anti-Mormon jargon can defame them. They aren't perfect but they're the best that ever lived. In addition to their upright character, they have the keys of the priesthood.
Many of your beliefs don't even align with but bible thumping protestants. They believe it's right to wear clothes. They believe sex without marriage is sin. Though I'm sure there are some 'progressive Christians' out there who would say otherwise.