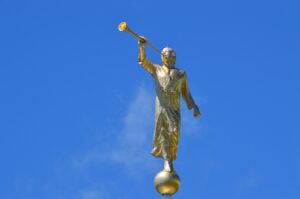 Notes on a (3hr) fireside found here:
[Here are Micah's videos giving more quotes and doctrine on Joseph Smith Returning, which lay the foundation:]
[Part 1: (1hr)]
https://www.youtube.com/watch?v=Hmn8PLgtStQ&t=13s
[Part 2: (2hrs)]
https://www.youtube.com/watch?v=Op7jG1_RZ8Q
[Another interesting short video by "Consider the Truth" on this subject can be found here: (10min)]
https://www.youtube.com/watch?v=DzW9FRUzs_c
Much more on this in the Micah English lectures on the return of Joseph Smith see tihie.com and his YouTube "The Two LDS Archives".
Discusses Joseph Smith already returned.
Discusses temples removing angel Moroni, this a symbol that JS has returned.
Min about 130 the prophecy of men in temple robes helping furnish supplies and build new Jerusalem temple
Min 133 JS return story of Adam – a man met Joseph Smith in Navoo by Joseph's grave.
Min1:50 onward, about Joseph Smith being the statue on the temples, and him being the rev14 angel flying through the heavens.
JS has right to do work on earth now past his death as a resurrected being. JS said when people think I have no right to do the work (ie now that's he is dead) that at that time he has the GREATEST right. (We know JS still has the keys.
Perhaps people will think JS is the Antichrist as he returns resurrected before Christ and does mighty miracles.
Speaks of president Hinckley saying much of rev14 angel is yet future
Speaks of temple statue originally being JS, that the artist named it Moroni and we refer to it as such, but that it actually represents JS.
Min about 2:20 Micah relates his vision of seeing JS translate the gold plates (sealed portion?) In the SLC temple. Then he is brought to top of that temple, the Moroni statue on it THROWS his trumpet, gets down off the temple, then JS turns gold and goes up there taking it the statues place.
(Recall also the earthquake (2020?) where Moroni's trumpet fell, absolutely symbolic)
Speaks of Jesus delegating keys of resurrection to JS. Sites several quotes of it early in the lecture and around min 2:25.
JS would resurrect Brigham and others of his friends to help straightway. A few quotes on that.
Speaks of sister Nelsons 2016 comment about what would we do if we knew Christ was already back on earth and that several great private meetings had taken place.
Ministration of a resurrected being is a key sign of the times. Happened with Moroni, will happen again with JS.
Speaks of how we have trivialized New Jerusalem and Zion thinking it's just love. It's not.
JS the man wounded who gets healed.
The one who is raised up aka resurrected.
Joseph sold to Egypt is a type of JS in the last days being resurrected and delivering the saints from the famine. Joseph into the put a symbol of JS being killed.
About min2:34 more of this symbol and JS patriarchal blessings on it.
Alma 37 Gazelem is code name for Joseph Smith. V21-26 on what JS does when he returns. Gazelem was changed to JS everywhere but there as they didn't understand it was for the return of JS.
Micah identifies 7 things JS must do when he returns.
Lists the 7 summarizing at min 2:57 (went over in more detail previously)
1 keys of resurrection
2 redemption of Zion
3 protect and preserve God's people fr the famine and tribulation
4 new scripture sealed portion etc.
5 reveal secret dark acts of the world
6 be the angel flying through the midst of heaven
7 be the messenger who brings back celestial law
There's a paper on this lecture available for review free at the website etc.
There's a Discord group chat you can join to discuss these ideas.
Speaks of a kid who saw JS at the SLC temple. Others have seen JS in connection to that temple as well. This is preparing the people, like how Christ appeared to people after his resurrection.
The angel with trumpet on temples was to say JS would return and complete the rev14 mission. Now that he is back, those statues are being taken down. Like the law of Moses being fulfilled when Christ came, etc.
Min 3:38 speaks of how we could be called to go to Zion outside of the keys like how the three Nephites and John did work for Zion in known example if Joseph Smith's day without going through Joseph Smith.